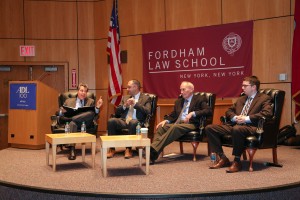 The New York Regional Office of ADL – in conjunction with its International Affairs Committee – presents an annual conference on a timely and provocative issue related to the Middle East.
The conference is co-sponsored with a university and planned with an academic audience in mind, publicized heavily at colleges across the New York City region and surrounding area.
The most recent conference was held at the Fordham University School of Law on Tuesday, January 29, 2013 in partnership with the Jewish Law Students Association at Fordham.  The program, "Political Islam in a New Middle East: Players, Attitudes & Conflicts" featured a panel discussion, including panelists Tony Badran of Foundation for the Defense of Democracy, Hillel Fradkin of Hudson Institute, Eric Trager of The Washington Institute, and Gregg Mashberg of Proskauer Rose LLP as moderator.  The discussion focused on understanding how political Islam is understood in historical and contemporary contexts, the impact of political Islam on democracy, fundamentalism, and extremism, and the impact and action as the Obama administration begins its second term.
The program was generously funded by Jeffrey and Shelley Parker, members of ADL's National Executive Committee of the National Commission and past Chairs of ADL's New York Regional Board.