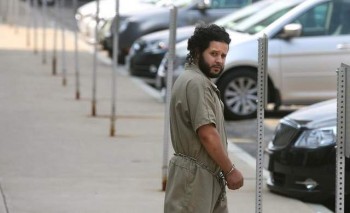 The online activ­ity of Mufid Elfgeeh, whose arrest for attempt­ing to pro­vide mate­r­ial sup­port for ter­ror, attempt­ing to kill U.S. sol­diers, and pos­ses­sion of firearms and silencers was made pub­lic this week by the U.S. Depart­ment of Jus­tice, under­scores the cen­tral­ity of the Inter­net in the rad­i­cal­iza­tion and recruit­ment process.
Elfgeeh uti­lized mul­ti­ple online plat­forms includ­ing Twit­ter, Face­book, YouTube and the android appli­ca­tion What­sApp to try to raise money for for­eign ter­ror­ist orga­ni­za­tions and to recruit three other indi­vid­u­als to join for­eign ter­ror­ist orga­ni­za­tions. His online activ­ity also inspired him to devise a plot to kill Shi'a Mus­lims and for­mer Amer­i­can ser­vice­men at home.
Social media enabled Elfgeeh to not only learn about the activ­i­ties of for­eign ter­ror­ist orga­ni­za­tions through videos, tweets and other online pro­pa­ganda, but to also con­nect with appar­ent sup­port­ers of those orga­ni­za­tions, in par­tic­u­lar the Islamic State of Iraq and Syria (ISIS).
Accord­ing to court doc­u­ments, Elfgeeh sought dona­tions for ter­ror­ists in Syria through Twit­ter. Among his alleged tweets were requests that peo­ple donate a third of their salary or at least "#Five_thousand_dollars_from_every_household" to sup­port mil­i­tants in Syria. He also tweeted and retweeted state­ments of sup­port for var­i­ous ter­ror groups includ­ing, "al-Qa'ida said it loud and clear: we are fight­ing the Amer­i­can inva­sion and their hege­mony over the earth and the people."
On Face­book, Elfgeeh was a mem­ber of at least two Arabic-language Face­book groups in which group mem­bers reg­u­larly post and share al Qaeda and ISIS pro­pa­ganda. His own Face­book pho­tos included sev­eral images from Al Bat­tar media, an offi­cial ISIS pro­pa­gandawing.
Elfgeeh also allegedly used Face­book to com­mu­ni­cate with indi­vid­u­als he believed were mem­bers of ter­ror­ist orga­ni­za­tions and with the indi­vid­u­als he was recruit­ing about plans totravel abroad to join ter­ror­ist orga­ni­za­tions.
In his recruit­ing, he ini­tially sug­gested Al Qaeda in the Ara­bian Penin­sula (AQAP) and Al Shabaab as pos­si­ble des­ti­na­tions, and later focused on ISIS. Notably, AQAP, Al Shabaab and ISIS are all ter­ror­ist groups that have become highly adept at dis­trib­ut­ing exten­sive English-language pro­pa­ganda.
On April 22 2014, he allegedly posted a mes­sage on Face­book attempt­ing to gain con­nec­tions in ISIS, stat­ing, "Who­ever knows a brother from ISIS who is able to com­mu­ni­cate well in Eng­lish, can com­mu­ni­cate with me through the pri­vate, due to the impor­tance." He also com­mu­ni­cated directly on Face­book with an indi­vid­ual he was recruit­ing to join ISIS (the indi­vid­ual was in fact an informant).
Elfgeeh was allegedly devel­op­ing a plot to com­mit mul­ti­ple mur­ders in the U.S. as well, appar­ently inspired by acts of ter­ror­ism around the world includ­ing Al Shabaab's attack of the West­gate Mall in Nairobi, Kenya and, in par­tic­u­lar, by Mohammed Merah's shoot­ings in France.
His inspi­ra­tion for this plot appar­ently came from watch­ing videos on YouTube. He allegedly explained that he had learned about Merah's actions because, "[i]t's in YouTube." He also allegedly had watched a video that pro­vided jus­ti­fi­ca­tion and instruc­tions for his plot: The video, he stated, "tell[s] you what to do …it's YouTube…they call them here…'individual wolf' (an appar­ent ref­er­ence to lone wolf attacks)."
Elfgeeh is a 30-year-old nat­u­ral­ized Amer­i­can cit­i­zen. Orig­i­nally from Yemen, he resided in Rochester, NY prior to his arrest where he owned and oper­ated a store called Halal Mojo and Food­mart. He was arrested on May 31, 2014 and pleaded not guilty on Sep­tem­ber 18.
Elfgeeh is the sec­ond Amer­i­can arrested in 2014 for recruit­ing oth­ers to join for­eign ter­ror orga­ni­za­tions, fol­low­ing Rahatul Ashikim Khan of Round Rock, Texas, who was arrested in June.