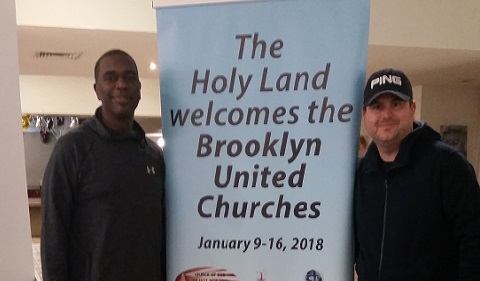 This month we honored Dr. Martin Luther King Jr., one of the most important moral voices of the civil rights movement. We must remember Dr. King's work every day, but especially today, as we witness a rising tide of hate and normalization of racism and bigotry.
We know that tackling the hard issues at home takes partners from all faiths and communities, and meaningful partnerships start with friendship and shared values. This is why ADL New York Director Bernstein joined Pastor Gilford Monrose and over 200 additional congregants and pastors from Brooklyn United Churches in Israel earlier this month. Israel is a place we have shared love for, and the trip was an unique opportunity to explore Israel's rich history through the lens of each other's faiths.
At the end of a week of spiritual growth together, Evan Bernstein addressed the trip participants during a special ceremony to commemorate MLK Day. Evan and the clergy reflected upon the many achievements of Dr. King, especially his leadership in the shared struggle for civil rights, and how the trip is just the beginning of a hopefully long-standing and close partnership between ADL and the community of Brooklyn Churches.
"We need partners in every corner; we can't do this on our own," said Bernstein to the Jewish Week Media Group. We need to rebuild these partnerships that may have been strong 40 and 50 years ago, but now we have to revisit them. It's an imperative for us. Every person I've come in contact with here wants to see a healthy and secure Israel, Bernstein added. As a Jew, that's an amazing thing for me to hear."
Read more from Evan Bernstein and Pastor Gil Monrose:
"Faith and Politics on MLK Day in the Holy Land" – Jewish Week Media Group 
"Caribbeat: Pilgrimage to the Holy Land" – New York Daily News 
Listen to their recent radio show:
620AM Radio's "Community Matters" with Leon Goldenberg