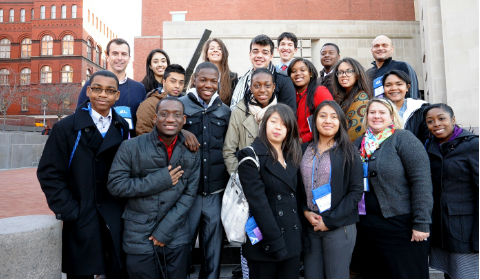 A racially, religiously and ethnically diverse group of fifteen high school students from New York City joined 106 student delegates from around the country at ADL's 15th annual Grosfeld Family National Youth Leadership Mission  to the U.S. Holocaust Memorial Museum in Washington DC November 17-20.
The students explored modern and historic examples of bigotry and genocide and shared personal experiences with hatred and discrimination. The program taught the delegates leadership skills so they could come back to their schools and communities with resources to combat bias and bigotry.
At the U.S. Holocaust Memorial Museum, students learned about the atrocities of the Second World War and examined contemporary issues of extremism, bigotry and genocide. The delegates explored a new exhibit at the museum, Some Were Neighbors, which addresses the choices everyday people made to be either allies of targets of the Nazis, collaborators with the Nazi regime, or stand by while others were victimized. The delegates also heard firsthand remarks from survivors of the Holocaust and Rwandan Genocide, and concentration camp liberator Dr. Leon Bass. Abraham H. Foxman, ADL's National Director, shared his story of how his Polish Catholic nanny saved and kept him hidden from the Nazis.   The students also attended the ADL Concert Against Hate at the Kennedy Center for the Performing Arts.
During breakout sessions conducted by ADL's A WORLD OF DIFFERENCE® Institute facilitators, students shared personal experiences with bullying, hatred and discrimination, and discussed how the lessons of the Holocaust can be applied today and to their own lives.
These fifteen delegates will now share their Mission experience with their school communities through presentations and essays, or by initiating clubs to raise awareness about bias and discrimination. We look forward to sharing their work as they find success in helping to create a world without hate.