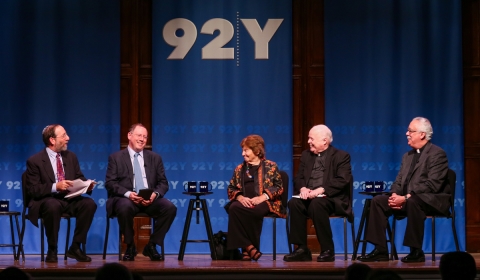 New York, NY, October 20, 2015… Commemorating the 50th anniversary of the historic Second Vatican Council, ADL welcomed the Papal Nuncio, the Vatican's Ambassador to the United Nations, His Excellency the Most Reverend Bernardito C. Auza, to highlight the significance of Nostra Aetate in transforming the Church's relationship to the Jewish people at a special partnership event between the Anti-Defamation League and the Archdiocese of New York.
Citing Pope Francis's personal example in strengthening Catholic-Jewish relations, the Vatican Ambassador reflected that "people, not documents," are ultimately what bring different communities together.
The Papal Nuncio spoke at "50 Years After Nostra Aetate: Catholic, Jewish and Latino Relations in the Age of a Latin American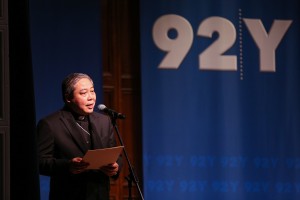 Pope" at the 92Y to a large and diverse audience before a panel of distinguished lecturers took the stage. The event was also livestreamed to congregations around the country, including in South Carolina, Houston, and St. Louis.
Moderated by ADL's Director of Interfaith Affairs, Rabbi Dr. David Sandmel, the panelists were Reverend Brian McWeeney, Director of Interreligious and Ecumenical Affairs at the Archdiocese of New York; Judith Banki, a pioneer of Catholic-Jewish dialogue and author of The Image of the Jews in Catholic Teaching, a memorandum which helped pave the way for the adoption of the historic Nostra Aetate; Rabbi Dr. Aaron Panken, President, Hebrew Union College-Jewish Institute of Religion; and Reverend Jean-Pierre Ruiz, Associate Professor of Theology and Religious Studies, St. John's University, and Past President of the Academy of Catholic Hispanic Theologians of the United States.
"Nostra Aetate has come to represent the ongoing efforts of the Catholic Church to confront the history of Christian anti-Judaism and to chart a new course in its relationship to the Jewish people," said Rabbi Sandmel of ADL. "In the fifty years since its promulgation, the Church has developed a substantive and affirming theology of Jews and Judaism, which has been reflected in the actions of popes and other Vatican officials.  The very fact that a Jewish and Catholic organizations collaborated on a panel made up of Jewish and Catholic scholars discussing the past, present and future of Jewish-Catholic relations shows how far we have come. What was once unimaginable is now embedded in Catholic teaching.  In a world in which religion is far too often a source of conflict and violence, the Jewish-Catholic relationship demonstrates the reconciliation is possible."
The panelists addressed varied topics such as fighting against Christian persecution in the Middle East; Catholic-Jewish dialogue in relation to the Holocaust; and the need to transmit and explain the messages of Nostra Aetate to the masses, Jewish and Christian alike.