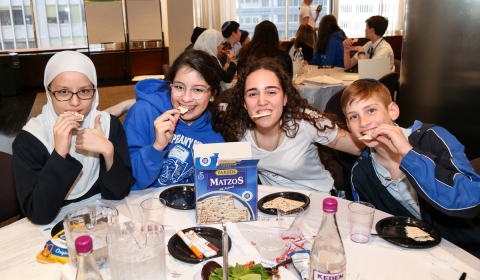 With the themes of "We are all a Nation of Immigrants" and "Welcoming the Stranger," ADL New York's Interfaith Seder brought together 85 Catholic, Muslim and Jewish students to learn about each other's holiday traditions, "break bread" together, and experience a traditional Passover Seder through hands-on activities. 75 middle-school students attended from the Epiphany School, Islamic Cultural Center School, and Solomon Schechter School of Manhattan together with 10 high school table captains from Abraham Joshua Heschel High School, who helped facilitate the discussion between all of the student participants.
The Interfaith Seder kicked off with our "Welcoming Guests" activity, which took verses from the New Testament, Quran and Torah that all highlighted the importance of embracing the stranger. Communities welcome the stranger, the Bible explains, because the Israelites were once strangers in Egypt too. The students engaged with each other to see how their scriptures similarly emphasize kindness. Questions included, "Have you felt like a stranger in your school or community? What helped you feel more accepted?" and "Does social media make you feel more like an insider or an outsider, like a stranger?"
Jonathan Greenblatt, CEO and National Director of ADL, welcomed everyone and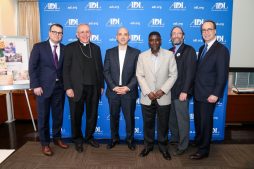 spoke about the symbolism of three faiths coming together. The event also featured a faith leader from each community who provided words of blessing to the group. Bishop John O'Hara, Auxiliary Bishop at the Archdiocese of New York, Sheikh Yahya Abubakar, Islamic Cultural Center School, and Rabbi David Fox Sandmel, ADL Director of Interfaith Affairs, offered words of hope and inspiration for the immediate and long-term future.
Throughout the program, students learned about different parts of the Passover Seder and drew posters to reflect their insights. In one group, where the students learned how the Seder begins with a blessing over wine, they talked about foods that religions instruct them to eat—and not to eat; alcohol in Islam, and lobster and pig in Judaism, were examples of dietary restrictions the students shared.
After a delicious lunch of "matzah lasagna" and ice cream, each school shared their version of "Grace After Meals," as well as a song of praise or hymn from each faith, so everyone could experience shared traditions from Catholicism, Islam and Judaism.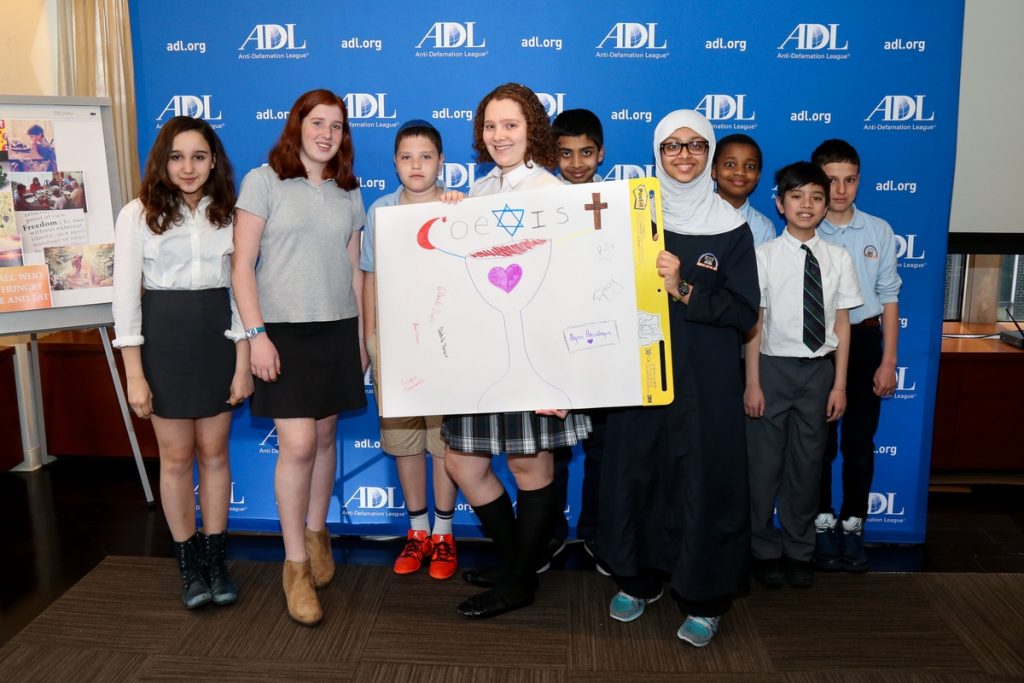 Photo Credit: Michael Priest Photography