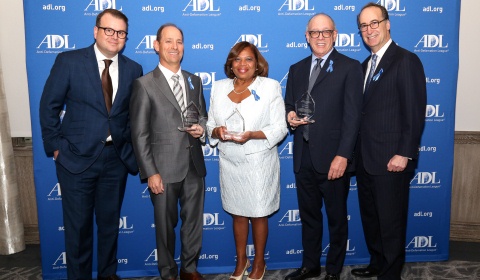 On May 18, over 240 guests gathered at the Engineers Club in Roslyn to honor three outstanding Long Island community members for their support and dedication to ADL's mission.
Dr. Lorna Lewis received the Securing Justice Award for her incredible leadership as superintendent of the Plainview-Old Bethpage Central School District. The Long Island Philanthropic Leadership Awards were given to two community leaders who are deeply attached to ADL's work across the region, Phillip Sharfstein and Cliff Saffron.
Each of our award winners spoke eloquently about why ADL is so important to them and how our work is impacting the Long Island community.
The special event also featured a keynote address from ADL CEO Jonathan Greenblatt, who shared ADL's goals for the future.
The event provided Long Island community members the opportunity to unite and learn about ADL's varied programs for students, families, and educators such as Holocaust education programs, anti-bias and bullying workshops, and responding to anti-Semitism on campus.
ADL New York Region thanks our sponsors: Westerman Ball, Bank Leumi, Joyce and Philip Sharfstein, Martin Elias, Laurie and Louis P. Karol, Randi and Bruce Pergament, Jacki and Cliff Saffron, Saber, Richard Marmaro, Jodi and Stephen Sheinbaum, Par Group, Todd Breen, Randi and Brad Butwin, ERASE Racism NY, Annie and Jay Gilbert, Lynne Gottlieb, Adam Haber, Helene and Scott Lurie, Dr. Amelia Schrier and Dr. Edward Smith, Steve and Wendy Shenfeld, David and Donna Pelton.
For more information about ADL Long Island or the Long Island Advisory Committee please visit http://nynj.adl.org/longisland/  or contact us.
Photo Credit: Michael Priest Photography