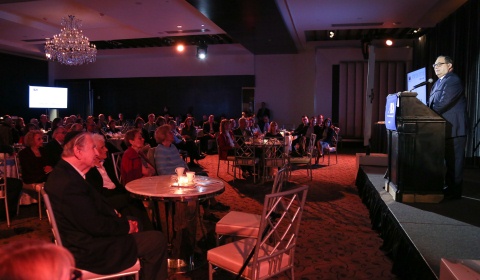 On Thursday, April 30, over 250 guests gathered at Old Westbury Hebrew Congregation to hear ADL National Director Abe Foxman speak about "Crisis Rising: Global Anti-Semitism." Abe was introduced by longtime friend and Long Island Advisory Committee chair Lou Karol. Host Committee Chair Helene Lurie opened the evening.
Abe's remarks emphasized current trends in Europe, and the critical importance of governments ensuring the safety of their Jewish communities worldwide. Drawing from ADL's large scale survey of global anti-Semitic attitudes, he explained that while "anti-Semitism is at its worst since World War II," there are a number of key differences today that demonstrate why a direct analogy to the 1930s is, in fact, flawed. Abe's presentation  highlighted ADL's deep concern about the growing manifestations of anti-Jewish hate and the work ADL is doing on the local, national and international stage to fight back.
The event provided Long Island community members an opportunity to unite, and learn about ADL's varied programs for students, families, and educators such as Holocaust education programs, anti-bias and bullying workshops, and responding to anti-Semitism on campus.
The event also launched ADL's Long Island Advisory Committee, which empowers local supporters to serve as ambassadors for the ADL through meaningful educational and service opportunities, relationship-building with community leaders, regional programmatic expansion and advancing ADL's mission through philanthropic leadership.
ADL New York Region thanks our community partners: Old Westbury Hebrew Congregation, Temple Beth Sholom, Temple Sinai and Shelter Rock Jewish Center. We also thank our corporate sponsor Astoria Bank, Lou and Laurie Karol, Glenn and Lisa Edwards and the Peter and Karen Lacovelli Charitable Foundation.
For more information about ADL Long Island or the Long Island Advisory Committee please contact Eric Post, Associate Director of Development, epost@adl.org or 212-885-5871
Photo Credit: Michael Priest Photography