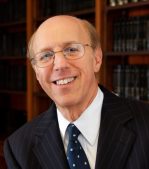 MICHAEL A. CARDOZO
Partner, Proskauer Rose LLP
Michael A. Cardozo is a partner in the Litigation Department of Proskauer Rose LLP where he represents a wide range of clients in commercial litigation matters.  He also assists in overseeing the firm's pro bono practice and diversity efforts.
Mr. Cardozo previously served under New York City Mayor Michael R. Bloomberg as New York City's 77th Corporation Counsel – the City's chief legal officer.  In that role he served as legal counsel to the City and its agencies and the Mayor and other elected officials, and headed the 650 lawyer New York City Law Department.  Mr. Cardozo's service as Corporation Counsel from 2002 to 2013 made him the longest-serving Corporation Counsel since the position was formally created in the early 19th Century.
Working with Mayor Bloomberg, Mr. Cardozo spearheaded several key municipal legal initiatives, including working to eliminate illegal guns from City streets; seeking to prevent sales of untaxed cigarettes; encouraging progressive environmental actions; defending numerous health care initiatives; reducing by 13% the amount the City paid out in judgments and settlements; advocating for judicial selection reform and lobbying to reform local and state tort laws.
While Corporation Counsel Mr. Cardozo initiated a number of diversity advances which resulted in an 8% increase in the number of diverse Law Department attorneys.   His efforts were aided in substantial part by the ADL's Workplace of Difference Program during which most of the Department's lawyers and non lawyers participated in interactive half-day training program learning about each other's differences and how to appreciate them.
Prior to becoming Corporation Counsel, Mr. Cardozo was a partner at Proskauer, where he was both an active trial lawyer and counsel to numerous sports leagues.  He also served as co-chair of the firm's Litigation Department and as a member of the firm's Executive Committee.
Mr. Cardozo has long been active in the public sector.  From 1996 to 1998, he was President of the 21,000-member New York City Bar Association.  He has also served as Chair of the Fund for Modern Courts, Chair of the Columbia Law School Board of Visitors and a member of the Lawyers' Committee of the Anti-Defamation League.  He is a presently a member of the Advisory Board of Legal Outreach and the Board of Sanctuary for Families.
Among the honors Mr. Cardozo has received are the American Lawyer Lifetime Achievement Award, the Citizen's Union Public Service Award, the New York Urban League Frederick Douglas Medallion, the George A. Katz Torch of Learning Award from the American Friends of Hebrew University, and the Diversity Champion Award from the City Bar Association.
Mr. Cardozo is a 1966 graduate of Columbia Law School, where he served as an editor of the Law Review, and received a B.A. in political science from Brown University in 1963.  Mr. Cardozo is married to Nancy, his wife of more than 52 years.  They have two daughters and three grandchildren.