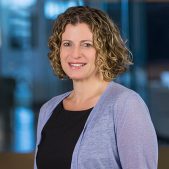 LAUREN GOLDBERG
Executive Vice President, General Counsel and Secretary of VEREIT, Inc.
Lauren Goldberg serves as Executive Vice President, General Counsel and Secretary of VEREIT, Inc., a publicly traded, full-service real estate operating company with $15 billion in assets, which also has an investment management business responsible for raising capital for, and managing the affairs of, certain non-listed REITs.  In her position, Lauren oversees the company's legal and regulatory affairs, corporate governance and securities matters, compliance and risk management.  She is also a member of the company's Management Committee.
Prior to joining VEREIT, Lauren served as Executive Vice President, General Counsel and Chief Compliance Officer for global cosmetics company Revlon.  Additionally, she served for nine years as an Assistant United States Attorney for the United States Attorney's Office in the Southern District of New York, where she investigated and tried a variety of cases involving securities fraud, insider trading, tax fraud, money laundering, and narcotics trafficking, among others.  While at the U.S. Attorney's Office, Lauren also held senior positions including Chief of Narcotics and Senior Trial Counsel.  Her prior legal experience also includes serving as Senior Vice President – Law for MacAndrews & Forbes Inc., and as an associate with Stillman & Friedman, P.C. and Fried, Frank, Harris, Shriver & Jacobson LLP. Lauren also has prior accounting experience as an associate at Coopers & Lybrand.
Lauren is a member of the Executive Committee of the Lawyers Division of UJA Federation and a recipient of UJA's James H. Fogelson Young Leadership Award. She previously served as a member of the UJA Women's Executive Circle Board and Co-Chair of the Young Lawyers Division.  Lauren received her law degree from the Columbia Law School and her undergraduate degree in accounting from the Wharton School, University of Pennsylvania.