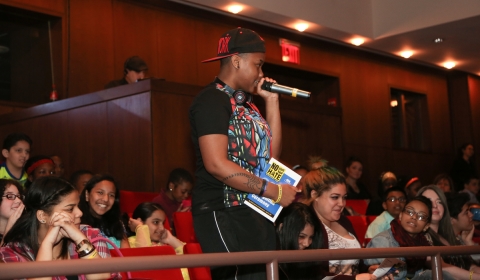 Wednesday, May 21, 2014: Nearly 500 students and educators from 76 schools in New York and New Jersey were designated as "No Place For Hate®" during a ceremony at NYU's Skirball Center for the Performing Arts to celebrate the amazing work they did to fight hate and bias.
Schools become certified as 'No Place For Hate'  by using ADL's resources to complete projects aimed at combating bullying, harassment and discrimination. The annual No Place For Hate Recognition Ceremony is a special opportunity to honor the participating schools and highlight the importance of anti-bias education.
The ceremony commenced with all 76 schools receiving a personalized No Place For Hate banner and included speeches by New York Regional Board Gregg M. Mashberg, ADL National Director Abraham Foxman, and ADL New York Board Member Charlotte Frank. Educators Melissa Beatty and Veronica Brugman from PS 72 in the Bronx, as well as students Thupten Geyphel from The Brooklyn International School and Harumi Kameda from Hyde Leadership Charter School in the Bronx each received the Alexander Bodini Prize for Diversity for going above and beyond in making their schools No Place for Hate.
Guests of the ceremony walked away with a clear understanding of the significance of the No Place For Hate Initiative® in creating a respectful, safe and bully-free school environment.
Learn more about ADL New York Region's 'No Place For Hate' Initiative