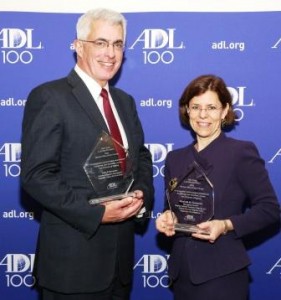 On Thursday, December 5th, the New York Region celebrated its 18th annual Human Relations Award Luncheon honoring legal and community leaders Elizabeth Sacksteder and John Savarese to support the mission and work of ADL in New York City. The afternoon brought together over 400 members of the legal and financial community and raised $700,000 for ADL's work in New York City. The keynote speaker was Cy Vance, Jr., New York County District Attorney, who addressed the important need for ADL and New York City's partnership in establishing enhanced punishments for hate crimes and prosecuting terrorism.
In accepting their awards, Ms. Sacksteder and Mr. Savarese expressed their gratitude for being recognized by the ADL, an organization that mirrors their values and commitment to understanding, inclusion, justice and respect for all.
"One measure of a society's greatness, in my view, is how hard it works to overcome bias, intolerance, and nativist fear-mongering," said Mr. Savarese.  "ADL's mission is central to achieving such greatness.  It is, and always has been, a constant reminder to our society of the hard work necessary to promote tolerance."
The Human Relations Award Luncheon is the signature event of ADL's Lawyers Division, the keystone of the legal community committed to ADL. It is composed of prominent attorneys from New York's leading firms, corporations and individual solo practitioners and is a unique philanthropic part of the New York Regional Board. The Division conducts legal educational briefings and programs, formulates legal projects and makes recommendations on policy issues that support ADL goals.
"If we are to imagine a world without hate and make that world a reality, we must always, always choose love," said Ms. Sacksteder. " And ADL does that at a grass roots level throughout the nation—in schools, in communities, through initiatives such as its [A]World of Difference [Institute ®] curriculum and its No Place for Hate ® program, laying the foundation for a world in which our children and grandchildren and their peers will hate less and love more."
To learn more about the Lawyers Division and get involved, please visit http://nynj.adl.org/lawyers-division.