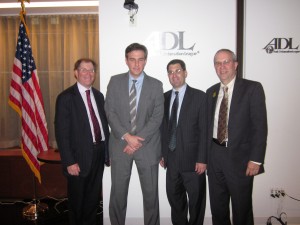 The New York Regional Government and Public Affairs Committee sponsors a number of lectures and events throughout the year on topics relevant to ADL interests abroad.
Included with these is the Middle East Conference, an annual conference on a timely and provocative issue related to the Middle East that is organized in conjunction with a university and attracts a wide audience of students, leaders, and academics. The Middle East Conference is generously sponsored by Jeffrey and Shelley Parker, members of ADL's National Executive Committee of the National Commission and past Chairs of ADL's New York Regional Board.
The committee also regularly hosts conversations, lectures, and briefings, and provides policy assistance for relevant topics in the region.