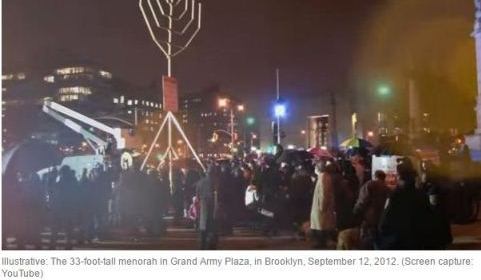 New York, NY, December 29, 2016 … The Anti-Defamation League (ADL) today expressed concern over the vandalism of two menorahs in Brooklyn during the Jewish festival of Hanukkah.
According to reports, menorahs in Prospect Heights and Park Slope were vandalized over the holiday weekend. The menorah in Prospect Heights was knocked to the ground, and the Park Slope menorah had to be replaced after having its arms broken off.
 "The menorah is one of the oldest Jewish symbols that represents faith, the Hanukkah holiday, and the perseverance of the Jewish people," said Evan R. Bernstein, ADL New York Regional Director. "It is an enduring symbol of Judaism, and its desecration is a shameful reminder that anti-Semitism still exists in our communities."

Mr. Bernstein added, "We thank Borough President Eric Adams for rededicating the damaged menorah in Park Slope as a symbol of unity in Brooklyn."
ADL has established a reporting mechanism where the public can report any anti-Semitic, racist or bigoted incidents, and encouraged social media users to promote the hashtag #ExposeHate and continues to monitor the proliferation of racist and anti-Semitic graffiti and vandalism across the country.
In recent weeks, ADL has voiced concern over a number of hate incidents that have taken place across New York State.
The Anti-Defamation League, founded in 1913, is the world's leading organization fighting anti-Semitism through programs and services that counteract hatred, prejudice and bigotry.  Follow us on Twitter: @ADL_NY