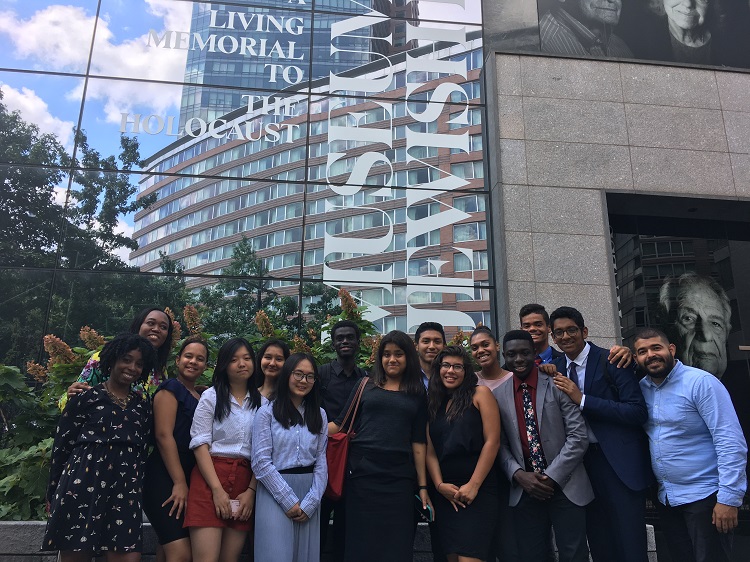 We are excited to host the 12 student leaders who were chosen to participate in our summer internship program. These students previously completed ADL's A WORLD OF DIFFERENCE® Peer-to-Peer programs in New York and New Jersey schools.
The Peer Training Program began in the aftermath of the Crown Heights Riots in 1991. Student leaders at Clara Barton High School expressed confusion and interest regarding the religious and racial tensions and the upheaval occurring in their community. At the request of the school's principal, ADL was invited to facilitate a series of discussions around stereotypes, bias, and discrimination. These workshops became the pilot for ADL New York/New Jersey's current 3-day Peer Training Program for high school students.
Immediately following the Peer Training, a gracious donor offered to support summer jobs at ADL for 15 student leaders. This ADL supporter has continued to generously support the Summer Internship program, since its inception in 1992.
These twelve high school students are spending six weeks in various departments of the ADL's National and NY/NJ regional office, including security, education and information technology. In addition to their responsibilities in each department, the students also engage in weekly professional development workshops and field trips to strengthen their anti-bias education, facilitation skills and leadership abilities.
We are thrilled to be working alongside such a talented and driven group of students and hope they have an informative and exciting experience with us this summer!
Continue reading for information about ADL New York/New Jersey's 2019 summer interns!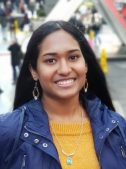 Marina Alex is a rising 16-year old sophomore at Clarkstown South High School. She was born in Staten Island but raised in New City, New York. She is a member of the Cultural Club and participates in the annual Cultural Night, where students showcase their diverse backgrounds at Clarkstown South High School. She became a World of Difference peer leader in sophomore year. She seeks to promote respect and acceptance at her school. Marina is excited and grateful to meet new people and gain professional experience from ADL. She will be working in the Library and Archives Department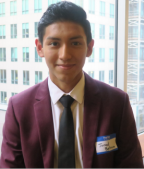 Jared Beltran is 15 years old and from Staten Island, New York. He recently completed his sophomore year at Curtis High School on Staten Island. Jared first became involved with ADL through his school after joining the ADL club during his sophomore year and was intrigued by the conversations of his peers. At school, he has participated in anti-bullying education, sexual assault awareness programs and promoted his school's ADL/No Place for Hate Club to great success. Jared is excited for the opportunity to spend the summer with ADL in the Education department.
Yazmeen Deyhimi is a 15-year-old rising junior at Paul D. Schreiber High School. She was born and raised in Port Washington, New York. Yazmeen became involved with ADL during her freshman year when she took part in the ADL Peer Training Program. She quickly joined the No Place for Hate Committee and has been committed to help facilitate events such as Unity and Equality Days. Yazmeen has also worked with a nonprofit, Serve to Serve, which brings tennis to underprivileged children, as well as being a Girl Scout.  She is extremely passionate about fighting racial profiling and championing gender equality. She is honored and excited to bring these values to ADL as a summer intern in the Education department.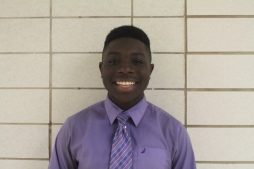 Babou Gaye is a 16-year-old junior at the Bronx High School of Science and was born and raised in New York State. He is a member of the Model United Nations team, Muslim Students Association, and has been elected Secretary (2018-2019) and Vice President (2019-2020) of the Student Organization in his school. Babou previously interned at the New York Civil Liberties Union's Teen Activist Project. He was first acquainted with the work of the ADL by becoming a Peer Trainer last year and he is thrilled to be an ADL intern this summer in the Innovation department.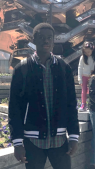 Dame (Bamba) Kebe is an 18-year-old junior at Brooklyn International High School. He was born in Senegal, West Africa and moved to New York a year ago. Bamba previously interned at Brooklyn Methodist Hospital. He is a member of the peer training team at his school where he learned how to facilitate classroom activities and speaks English, French and Wolof. This summer, he is excited to be working with the ADL Maintenance department and learning more about office operations.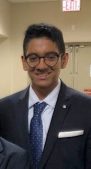 Arjun Mazumdar is a 16-year-old rising junior at the Bronx High School of Science and lives in Prospect Heights, Brooklyn. He is the captain of his school's Congressional Debate team, He has been recognized by the Scholastic Art and Writing Awards for essay-writing. He is currently working on a social research project with a mentor from Microsoft Research Labs. At school, he is a member of the Equity Board, a select group of about 15 ADL Peer Trainers. He is also a member of the Judicial Board, which monitors the integrity of the elections involving the 3,000+ student body members. This summer, he is excited to meet thoughtful and dedicated people while gaining important work experience at ADL in the Security and Intelligence department.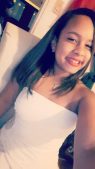 Angel Ortiz is 16 years old and a sophomore at Claremont International High School. She was born in Santo Domingo, Dominican Republic, and now lives in the Bronx, New York. Fortunately, she got involved as an ADL Peer Trainer with peers at her high school, through which facilitated activities to make a difference in her school and community. She is part of the student council at her school and has an incredible passion for civil rights and social equality. She is very excited for her ADL internship this summer in the Latin American Affairs department, namely to learn new skills and to become a better peer trainer.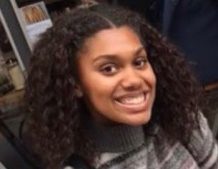 Allenix Shepard is a 17- year old junior at Curtis High School. She was born and raised in Staten Island. At the beginning of her Junior year, she joined her school's ADL/ No Place for Hate Club and has loved being a part of it ever since. One of her passions is presenting to her peers about the topics discussed within the ADL club meetings and educating her fellow students on how to become better peer leaders. She is extremely honored and humbled to be an ADL intern. She is looking forward to gaining professional working experience, meeting new people and furthering her knowledge as a peer trainer. Allenix will be working with the Copy and Distribution Services department.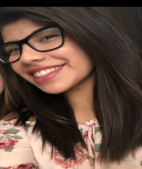 Bruna Velez is a 16-year-old rising junior at Curtis High School and is very excited for this amazing opportunity to work with ADL. As a freshman she joined the ADL club at her school and has been able to express her love for advocacy. She is also a three season athlete, a tuba player in the symphonic band and part of two musical productions. Also a member of the Feminist Club, Bruna is passionate about the values of equality and social justice. She is very honored to be a part of the Innovation team at ADL and can't wait to see what this summer will bring.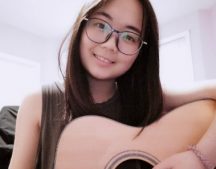 Ruiqing (Cindy) Wang is a 17-year-old student at the Queens High School for the Sciences at York College. She moved to New York at the age of 10. She will be the vice president of her school's ADL/No Place For Hate club in the 2019-2020 school year. She also volunteers at Lois C. Lee Early Childhood Center in Queens five days in a week. She is excited to begin the ADL internship program with the Development team and share her experiences with her fellow club members. She hopes to strengthen her leadership skills and meet like minded peers this summer at ADL.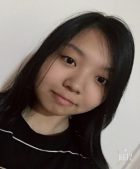 Doris You is a 17-year-old student at Aviation Career and Technical High School. She was born in America but was raised in China. She returned to America at the age of 7 and now lives in Queens, New York. She joined her Anti-Defamation League club halfway through her sophomore year and the program was so rewarding that she applied for the ADL summer internship. She is appreciative and excited to work with ADL this summer in the Library and Archives department.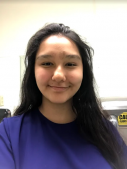 Sharon Zohirova is 15 years old and a student at Staten Island Technical High School. She was born in Daytona Beach, Florida, and moved to Brooklyn at only two months old. She is an involved and active member of multiple service clubs at her school where she just finished her sophomore year. These clubs include HIV/AIDs Awareness Club, Key Club, Red Cross Club and Rotary Club. She learned about Anti-Defamation League during her sophomore year and signed up for the Peer Training course. After the three-day training, she was moved by the experience and wanted to continue her journey as a peer trainer through an ADL summer internship with the Information Technology team.