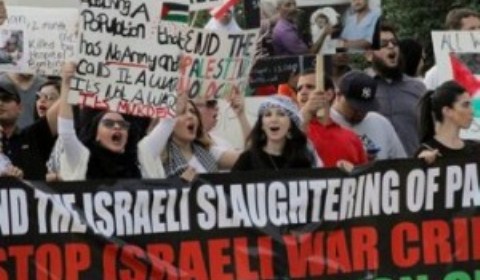 A new report from the Anti-Defamation League (ADL) provides a snapshot of the dramatic upsurge in violence and hatred against Jews around the world during and related to Israel's recent military operation to stop Hamas rockets and dismantle tunnels in Gaza.  Violence against Jews and Jewish institutions increased significantly during Israel's Operation Protective Edge in July and August.
In Casablanca, Morocco, a rabbi was assaulted by an individual angry over Israeli air strikes, suffering a broken nose and ribs. In the Netherlands, a Holocaust memorial was defaced with "free Gaza" graffiti. In South Africa, members of the Jewish community received threats of violence by telephone and on social media with references to Gaza.
"And the list goes on and on," said Abraham H. Foxman, ADL National Director. "From France to Argentina, from Canada to Chile, synagogues were attacked, Jewish cultural centers were vandalized, Jewish shops were threatened and identifiably Jewish individuals were beaten on the street. Anti-Semitism was in the air, and in the streets."
ADL will be sharing copies of its report on anti-Semitism during Israel's Operation Protective Edge with members of Congress in the U.S. and with representatives of foreign governments and other world leaders in an effort to raise awareness about the seriousness and extent of the problem of global anti-Semitism.
For the full article and more information, visit ADL's press center