ATTENTION COLLEGE AND GRADUATE STUDENTS:
The ADL New York / New Jersey Region's Internship Program provides professional development training for college and graduate school students seeking real-life experience in the non-profit sector. It is an unpaid internship with the opportunity to receive college credit and/or community service credit.
ADL is the world's leading anti-hate organization. Founded in 1913 in response to an escalating climate of anti-Semitism and bigotry, its timeless mission is to protect the Jewish people and to secure justice and fair treatment for all. Today, ADL continues to fight all forms of hate with the same vigor and passion. A global leader in exposing extremism, delivering anti-bias education, and fighting hate online, ADL is the first call when acts of anti-Semitism occur. ADL's ultimate goal is a world in which no group or individual suffers from bias, discrimination or hate.
The ADL New York / New Jersey Region office, overseen by Regional Director Evan Bernstein, serves New York State, Northern and Central New Jersey with anti-bias education programs, advocacy work, and interfaith/intergroup initiatives.
Now accepting applications for the following open positions
Development: Fall 2018
Regional Ops: Fall 2018
Education: Fall 2018
*Internship positions are no longer available for Summer 2018*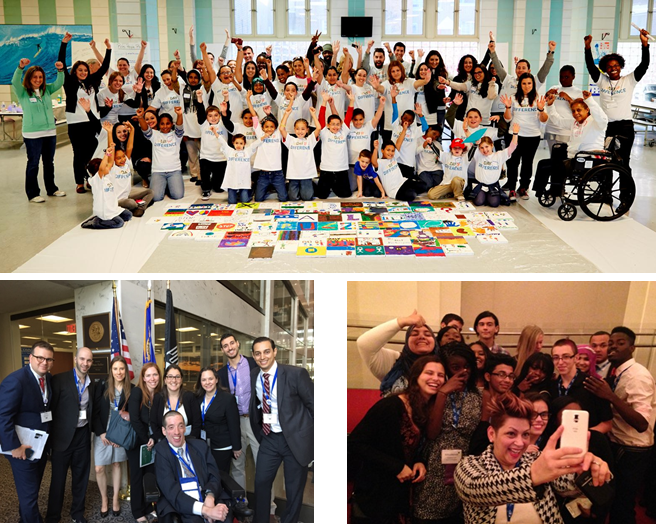 ROLES & RESPONSIBILITIES
Option #1: Development Internship 
Assist in day-to-day operations including, but not limited to:
Assisting with the logistics and coordination of regional cultivation and fundraising events including conducting venue research, reviewing invitation lists, tracking supporters and sponsors, and following up with vendors
Creating newsletters, e-blasts, website updates and other digital content
Conducting internet research on peer organizations and prospective corporate/foundation donors
Assisting with the organization and updating of event files and donor lists (offline and in Microsoft Word and Excel)
Option #2: Regional Operations Internship
Shadow the respective manager and designated colleague(s) to gain a real-world work experience and a greater understanding of ADL's work related to combating anti-Semitism, building interfaith partnerships and various initiatives with members of the law enforcement community.
Read print and electronic media outlets connected to ADL's mission.
Under direct supervision, conduct research, prepare memos and letters and draft meeting minutes in order to gain experience in the implementation of community service work.
Participate in special projects in the fields of civil rights, international affairs, education and management.
Create and manage contact information lists.
Assist with processing expense reports and managing grants.
Assist with creating and compiling materials for programs, events, and presentations.
Option #3: Education Internship
The New York / New Jersey Education Department Intern will work closely with regional education staff on the implementation of the No Place For Hate (NPFH) program –an initiative designed to create inclusive communities and empower schools to challenge all forms of bigotry.
Provide administrative support to the regional education team:
Serve as a liaison to No Place For Hate Coordinators
Maintain lists for periodic communications to clients and potential clients
Respond to program inquiries via email
Socialize ADL's Education resources via Instagram, Facebook and Twitter
Identify and capture participant impact stories for integration in educational content and funding proposals to expand educational programming.
KEY QUALIFICATIONS
Student in undergraduate or graduate degree program
Minimum GPA of 3.3
Interested in ADL's mission
Available to work approximately 2-3 days/week with flexible hours
Volunteer/community service experience
Ability to multi-task
Research and analytical skills
Quick learner, demonstrates initiative, team player
Familiarity with Microsoft Office Suite including Word, Outlook and Excel
Ability to complete advanced formatting, layout, and mail merge tasks
Ability to manage and manipulate large amounts of data in Excel
Knowledge of operation of standard office equipment e.g. fax machine, phones and photocopier
Strong organizational skills and ability to multi-task.
Professional demeanor.
Preferred but not required
Previous internship experience
Leadership role at university club/group